sylke
So,
last time I did this
I wrote down most everything and I'm glad I did, because I totally had to refer to it several times today. I continue to be a Disciple Of Keller when it comes to cooking fowl. I mean, look at this bird: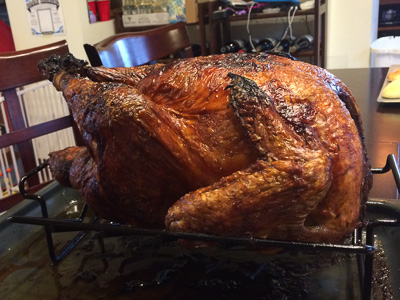 My timing was mostly just as I planned, and the husband and inlaws took care of clean up and putting away leftovers. Overall, 10/10, would cook again. Menu was turkey, gravy, cranberry sauce, mashed potatoes, sweet potato casserole, skillet green beans, butternut squash soup, and Parker House rolls. Butter in *everything*. Gratuitous photo of the spread, minus the cranberry sauce which I forgot to put out at first but was remembered before anyone ate more than a couple bites: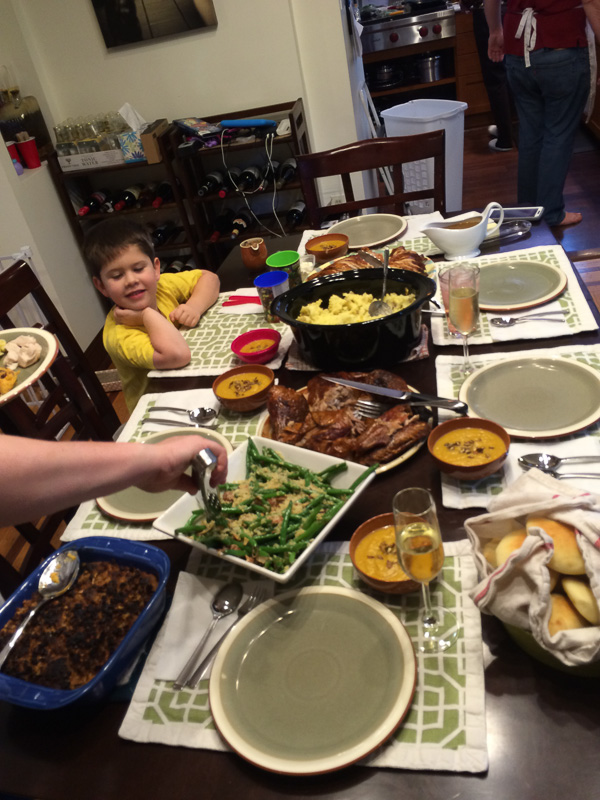 Recipes used are replicated here in case they get removed from the sites I got them from. Turkey, cranberry sauce, and rolls were the same as last year, except I added zest from two clementines and some microplaned fresh ginger root (maybe half an inch to an inch of a small root) to the cranberry sauce. I think it helped brighten things up. The rolls I had to let sit
an extra 20 minutes
okay maybe an extra hour for their second rise because the turkey wasn't out of the oven yet, but they didn't seem negatively affected. The sweet potato casserole was in the toaster oven and got too brown on top but was cooked just fine otherwise. Maybe a tad cool in the middle. Cover with foil for the first 10-15 minutes next time and let it cook a full half hour if doing in the toaster oven.
For the turkey, it turned out I still had a bag of the same kind of brine I used two years ago, so that was super easy to replicate. Unfortunately that brine has been discontinued, so next turkey I'll have to find something else that I like. This one had juniper and cranberries and sage and orange peel. On one hand, commercial brines are handy because there's a wider variety of stuff in there that I just don't want to keep on hand the rest of the year. On the other, if I find a brine recipe I really do like, it could be a unique Christmas gift to start giving out brine mix. They're great for chickens as well as turkeys. Kinda assumes that the recipient does more cooking than just the occasional burger or pasta dish. We bought a happy turkey again this year. I like being able to support the local farmer's co-op, but it's definitely priced as a premium turkey. I need to test the turkey method on a cheaper turkey. So, this year was a 19.75 lb turkey. The giblets were still frozen when we picked it up (the co-op had been defrosting it for 5 days already) but the rest of it was thawed. Brined it in my new canning pot (which hasn't been used for canning yet, natch) in the garage and then let it dry in the fridge. I let it come up to room temp for an hour and 15 minutes, and had zero trouble with the butter solidifying on the skin this time. I also put zero vegetables under the turkey this year. They didn't fit in my menu and they would've just added more steam. The skin was incredibly flavorful and crispy, and the turkey itself is delicious. The giblets were turned into gravy, but we're keeping the carcass to boil into turkey noodle soup in a couple months. I assumed that since it took 2 hours to do the smaller turkey, it'd take 2:15 to do this one. Forgot to account for the turkey going in warmer. Nearly 20 pounds of turkey, cooked perfectly after an hour and fifty minutes. I turned the turkey after the first hour and put the probe into the breast meat. The thigh was already registering 150° at that point.
*****************
The butternut squash soup was kind of a last-minute addition. I'd debated doing it, bought the ingredients, decided I didn't need it, and then woke up this morning and realized I was getting started early enough that I still had time to roast the squash. I did toast the pumpkin seeds yesterday. Fresh pumpkin seeds have moisture in them causing them to puff up and occasionally pop. And then they turned a lovely toasty brown. Kindergartener wasn't crazy about the soup, though. (The toddler slept through dinner.) But holy moly, apple and onion and sage sautéed together smell AMAZING.
Roasted Butternut Squash Soup (via
Chowhound
, by Christine Gallary)
INGREDIENTS
4 pounds whole butternut squash (about 2 medium), halved lengthwise and seeds removed
2 tablespoons unsalted butter (1/4 stick)
1 medium Granny Smith apple (about 8 ounces)
1/2 medium yellow onion
8 fresh sage leaves
2 1/2 cups low-sodium vegetable or chicken broth
2 1/2 cups water
1 1/2 teaspoons kosher salt, plus more as needed
1/4 teaspoon freshly ground black pepper, plus more as needed
1/3 cup heavy cream
1/2 cup toasted pumpkin seeds, for garnish (optional)
INSTRUCTIONS
Heat the oven to 425°F and arrange a rack in the middle. Line a baking sheet with aluminum foil. Place the squash pieces cut-side up on the baking sheet. Melt 1 tablespoon of the butter and brush all of it over the tops and insides of the squash halves (alternatively, you can rub it on evenly with your fingers). Season generously with salt and pepper. Roast until knife tender, 50 minutes to 1 hour.
Meanwhile, peel, core, and cut the apple into medium dice. Cut the onion into medium dice. Melt the remaining tablespoon of butter in a large saucepan or Dutch oven over medium heat. Add the apple, onion, and sage, season with salt and pepper, and cook, stirring occasionally, until softened, about 7 minutes. Remove the pan from the heat and set aside.
When the squash is ready, set the baking sheet on a wire rack until the squash is cool enough to handle. Using a large spoon, scoop the flesh into the saucepan with the sautéed apples and onions; discard the skins.
Add the broth, water, and measured salt and pepper, stir to combine, and bring to a boil over medium-high heat. Reduce the heat to medium low and simmer, stirring occasionally and breaking up any large pieces of squash, until the flavors meld, about 15 minutes. Remove the pan from the heat and stir in the cream.
Using a blender, purée the soup in batches until smooth, removing the small cap (the pour lid) from the blender lid and covering the space with a kitchen towel (this allows steam to escape and prevents the blender lid from popping off). Alternatively, use an immersion blender. Taste and season with salt and pepper as needed. Serve garnished with the pumpkin seeds, if using.
*****************
I really didn't want to use the canned sweet potatoes in syrup, so I had to find a recipe that used fresh sweet potatoes. Boiled and mashed them up the day before, so it was easy to just dump them in a bowl and mix all the yummy stuff together. That was about when I started losing control of keeping the kitchen looking relatively neat and it started exploding with dirty dishes.
Sweet Potato Casserole (courtesy of
Food Network
)
Filling:
4 tablespoons unsalted butter, melted, plus more for buttering the baking dish
3 cups mashed sweet potatoes (3 to 4 large potatoes; about 1 3/4 pounds)
1/2 cup milk
1/4 cup brown sugar, packed
1 teaspoon pure vanilla extract
1/2 teaspoon kosher salt
2 large eggs
Topping:
1/2 cup all-purpose flour
1/2 cup brown sugar, packed
4 tablespoons unsalted butter, melted
1/4 teaspoon kosher salt
3/4 cup chopped pecans
For the filling: Preheat the oven to 350 degrees F and butter a 2-quart baking dish.
Whisk together the butter, mashed sweet potatoes, milk, brown sugar, vanilla, salt and the eggs in a large bowl. Transfer to the prepared baking dish.
For the topping: Combine the flour, brown sugar, butter and salt in a medium bowl until moist and the mixture clumps together. Stir in the pecans and spread over the top of the sweet potatoes in an even layer. Bake until mostly set in the center and golden on top, 25 to 30 minutes. Serve hot.
*****************
We'd just had bacon Brussels a few days earlier, and none of us are super excited about green bean casserole, and these sounded tasty.
Loaded Skillet Green Beans (from
howsweeteats.com
by Jessica Merchant)
Ingredients:
4 slices bacon, chopped
2 shallots, sliced
2 pounds fresh green beans
1/3 cup toasted almonds
4 ounces feta cheese, crumbled
garlic butter breadcrumbs
2 tablespoons unsalted butter
1 garlic clove, minced or pressed
1/3 cup seasoned panko bread crumbs
1/8 teaspoon crushed red pepper flakes
Directions:
Heat a large skillet over medium-low heat and add the bacon and shallots. Cook until the bacon is crispy and the shallots begin to brown, stirring occasionally, about 8 to 10 minutes minutes. Remove the mixture from the skillet and place it in a bowl while you cook the green beans.
Add the green beans to the skillet. If there isn't any bacon fat left, you can use butter or olive oil (about a tablespoon) to toast the beans.
[Or you can add more bacon fat if you have some lying around in your fridge like everyone should. -Carson]
I find that the beans are seasoned enough with the bacon flavor and feta, but you can add some salt and pepper here if you like. Cook the beans over medium heat, stirring and tossing occasionally, until they are bright in color and cooked - but still slightly crunchy - about 5 to 6 minutes. Add the shallots and bacon back into the skillet and toss. Toss in the toasted almonds and feta.
Sprinkle with the garlic brown butter bread crumbs and serve immediately.
garlic butter breadcrumbs
Add butter to a small saucepan over medium heat and whisk constantly while it bubbles. The minute brown bits begin to form on the bottom of the pan, remove from heat and whisk for an additional 30 seconds. Let butter stand for 2 minutes, then add in minced garlic and whisk. Add in panko and pepper flakes and stir well to coat and combine. Set aside.
Roughly, my timeline looked like this:
Tuesday: picked up turkey, put it in brine
Wednesday: removed turkey from brine, patted dry, put in fridge. Boiled and mashed 3 sweet potatoes. Yams. Whatever the hell you want to call them. pan-roasted almond slices, pan-roasted pumpkin seeds, chopped up pecans (because it was cheaper to get a big bag of halves than to get a small bag of halves and a small bag of chopped).
Thursday: 9:30: preheated oven for squash, started 5 lbs of whole yellow potatoes boiling
10am: put squash in oven to roast, started rolls. After getting the rolls set up for their first rise, I realized I'd forgotten to butter and season the squash halves. Pulled them out and did that. Chopped up apple/onion for soup.
10:50: took squash out to cool
11am: started clarifying butter, may have drained potatoes at this point and taken them off the heat.
11:15: stuffed and brushed turkey
11:30: turkey in the oven, then sautéed soup bits. Let them sit in pan while I did the next steps
11:45: shaped rolls, almost forgot to brush the rolls with butter, and realized at this point that the rolls were going to be rising longer than I'd planned. I moved them into the dining room where they'd hopefully be a little cooler than in the kitchen.
12:15: mashed up the potatoes, added butter/salt/milk/cream, immersion-blended them some, and put them all into a crockpot on low to stay warm until dinner and get them off the stove because that burner was needed for the next step.
12:30: Turned the turkey, put the meat probe in, and went back to the soup. Scooped 3 halves of squashes, put all the stuff on a back burner (formerly the potato burner) and let it simmer for a while.
12:45: assembled sweet potato casserole
1pm: immersion-blended the squash soup thoroughly and moved it to a second crock pot to stay warm
1:25: turkey came out of the oven. Father-in-law started the gravy. That was the only part I really needed to draft a sous-chef for, though.
1:30: sweet potato casserole went in the toaster oven, I started cutting up stuff and sautéing bacon and shallots (another magical combination) for the beans
1:45: rolls went in the main oven, oh, wait, the soup was still on the stove, THIS is when it went into the crockpot.
1:55: rolls came out looking beautiful
2pm: started sautéing beans in a skillet that was a bit too small, so it took a good 20 minutes to do them all properly enough. Also drafted Tiffany to carve the turkey.
2:30: dinner was served!